I didnt realize how much of my ad that Facebook Marketplace truncated; so here is the complete ad: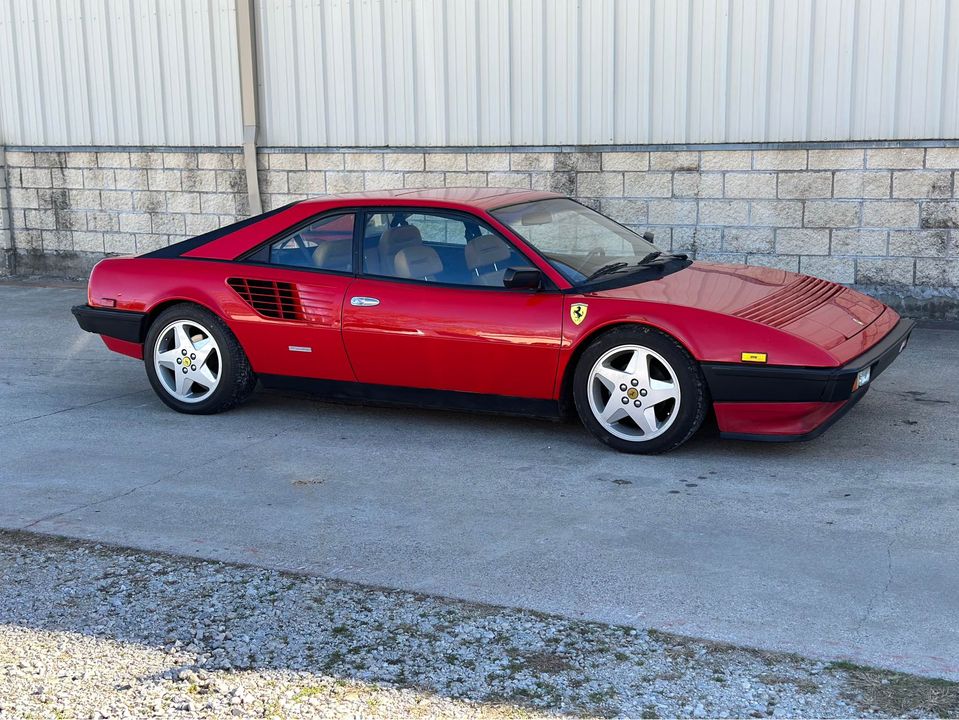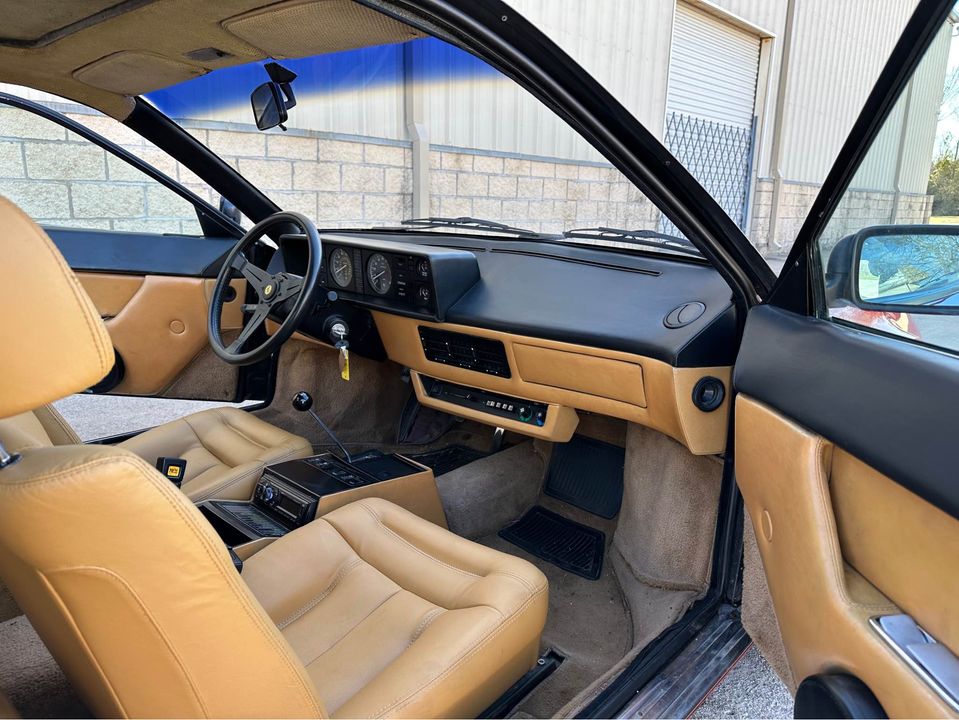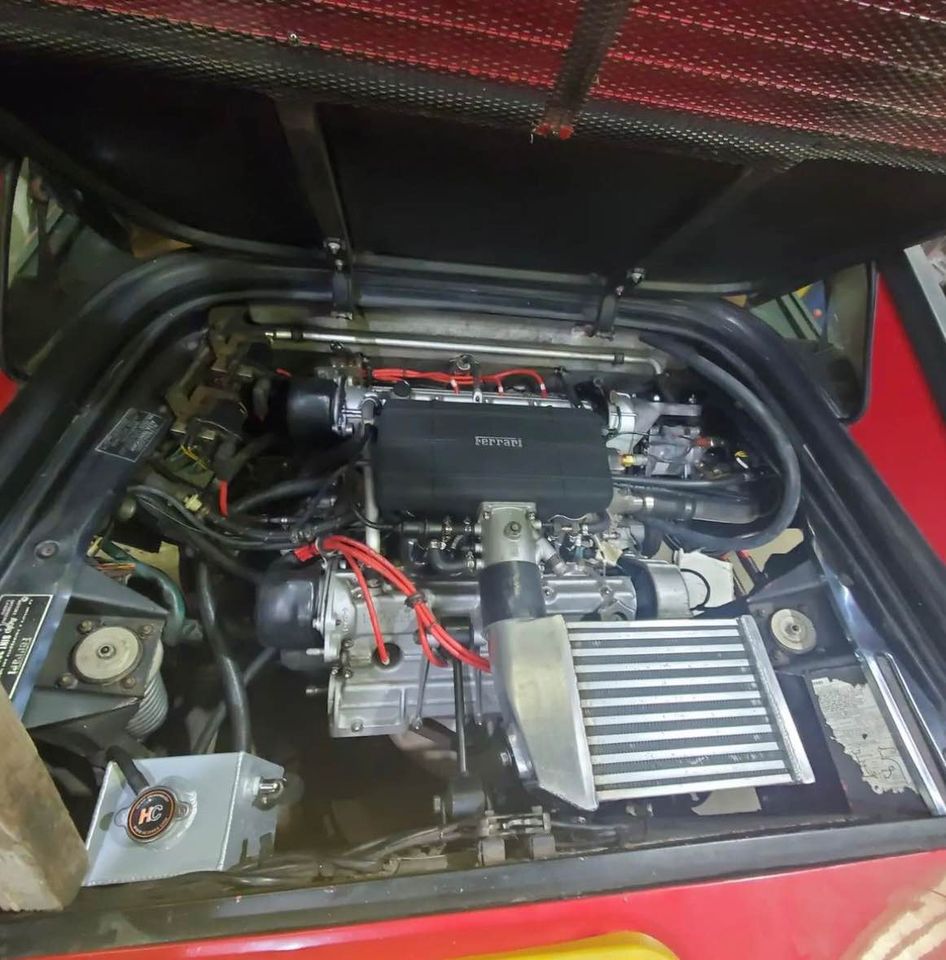 I am selling my turbocharged 1982 Mondial 8. It's $39,000. If you're interested keep reading. It's a fairly low mileage car. Around 36k miles if I remember right. I love it, I finally feel I have taken the project as far as I can, and I want to make room for new project cars (hint: I bought a silver 308GTB).
Example to typical Mondial driver's day: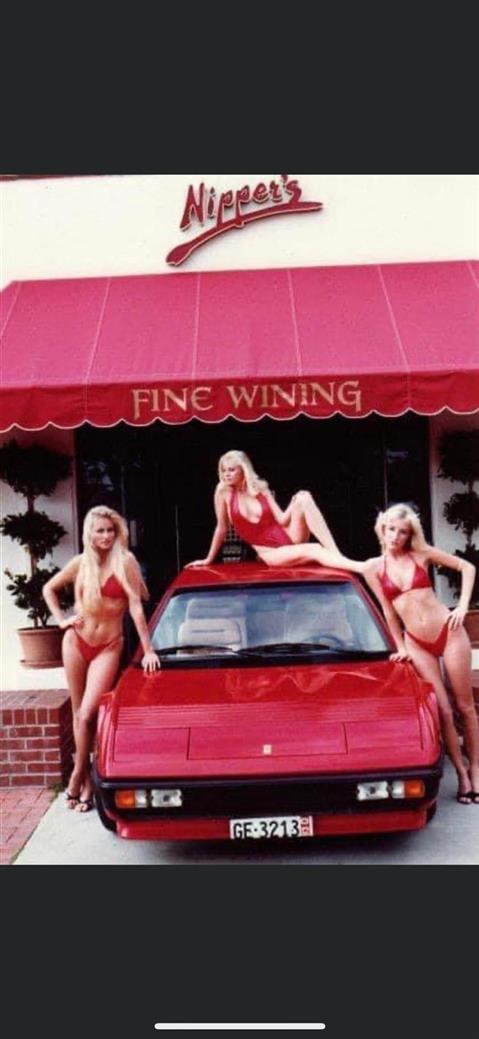 Not my actual car. Well, it could be, but this was not during my ownership.
More about the car:
82 Mondial 8 red on tan. Interior is very nice. Both front seat bottoms have been recovered and are in great shape.
All the gauges work, but the tachometer occasionally requires that you tap it with your finger after starting, like Fonzie hitting the jukebox.
Radiator has been replaced with aftermarket aluminum unit and DUAL high performance fans that are significantly lighter than the original parts. Plus a lower temp fan switch. So no overheating issues.
Coolant expansion tank has been replaced with an aluminum one (no more leaks!)
AC compressor has been upgraded to the SANDEN unit and blows cold. Although "blows" is kind of an aggressive term for Mondial airflow. Add some ceramic window tint and you'll survive summer.
Shocks have been replaced with custom adjustable coilovers and is lowered about 1.5 inches from stock. The ride height and dampening is fully adjustable. If your steep driveway can't handle the current level of sexiness the car can be raise up by adjusting the spring perches. Spring rates are stiffer than original, but still very comfortable.
Between the radiator, fans, AC compressor, and coilovers we have shaved over 100lbs off the curb weight.
Wheels/tires are from a 348. Original wheels/TRX tires can also be included. Tires are new. All season, not extreme summer only tires. Plenty of grip for a 40 year old Ferrari.
Timing belts, valve cover gaskets, cam seals, and crankshaft seal were all done two years ago and have under 1000 miles on them. I'm a 5-6 year belt guy so that doesn't bother me. The clutch was recently replaced too. I used the V12 "Daytona" pressure plate to hold the extra power. Pedal pressure is about 15% higher than the stock clutch but still very light. The rear main oil seal was replaced at the same time as the clutch.
The transmission shifts amazing. Honestly it's better than my cherished 308. The clicky-clack of the gated shifter at 7400rpm is just intoxicating.
The power windows have "boosters" installed. They work great. The sunroof works too!! The power antenna is not working. I think the gear inside stripped. Fortunately out of the quattro of power accessories the antenna is the cheapest.
The glovebox release is electric and is currently stuck shut. I can't remember if I ever had it open. It might be full of cocaine or other treasures from a previous owner.
The electric fuel door release does not work….wait, maybe the key has to be on for it to work? That's how my 348 is. Anyway, I just pop the engine lid and pull the manual fuel door release. Plus that reminds me to check the oil when getting gas.
Simple JVC Bluetooth head unit and four vintage speakers (alpine or pioneer). I haven't turned the radio on in two years, prefer Ferrari motor sounds, blah blah blah.
Turbo kit makes it FAST. Non car people can stop reading here. The custom kit uses a Comp oilless, ball bearing 5858 T3/T4 size turbo and a 44mm Tial external wastegate. The turbo needs to be lubed with about five pumps from a special grease gun every 3000 miles (will be included with the car). Think of it as one extra step during an oil change. The car makes ~400 horsepower on 93 pump gas. It's even faster on ethanol, keep reading. I would call this reliable under anything short of road course track day type conditions. Would I try to go 169mph on pump gas? no. Would I do a couple of 0-100mph acceleration runs? yes. What if you want to run a road course? Use ethanol and disconnect the boost control solenoid.
The antique mechanical fuel injection has been replaced with modern electronic fuel injection and ignition from ECUMaster. I used eight 50lb high impedance injectors from Racetronics and installed an additional fuel injector between the intercooler and the intake manifold. This provides an additional benefit of cooling the air charge through the latent heat of vaporization. There is an air to air intercooler.
The notoriously unreliable digiplex ignition boxes were also replaced by the ECUMaster programmable ecu. It runs the fuel injectors, ignition map, the additional injector, and the boost control. It has a flex fuel sensor so the engine can run on E85, 91 (or better) pump gas or any mix of the two. The ecu does all the calculations automatically. I have also added an intake sensor that can add or reduce boost or ignition timing based on intake air temperature. Basically just a fail safe.
I also added a data logger that stores all engine events on a memory card. If you run into an issue just pull the card, slip it in your laptop and send me the last couple of files with a description of what you felt or saw. Pretty high tech stuff.
And why would you want to run ethanol? Oh, just another 100 horsepower! The higher octane of the ethanol allows more boost, and of course I optimized the tuning to take advantage of that.
The entire turbo package is hidden behind the stock exhaust diaper, so it's a sleeper.
I still have the original air filter box, muffler, and intake hoses. So putting it back to its slow ass original condition would be fairly easy. You would need a short section of exhaust made between the manifolds and the muffler (usually called test pipes).
Anyway, the asking price is $39,000obo. That is as-is for a 500hp turbo Mondial. Overall this is a great deal for a classic Ferrari that won't get embarrassed losing to the neighbor's minivan.
Ferrari would have labeled this a 400 horsepower car in 1982. And that's on pump gas. On Ethanol it's 500 horsepower!
Known flaws: There are a couple thin spots in the paint on the engine lid and trunk lid. See last photos. The driver's door has to be shut pretty hard to fully latch (but the car seals up well and is very quiet on the freeway). There is a small ding on the passenger side rear fender. A small piece of the ugly US bumper is missing on the rear driver's side. The driver's side a-pillar has some crazing in the paint. Carpet up front shows some wear (as typical of lighter colored carpet). It has a set of nice custom floor mats, I should have bought black instead of beige.
I have owned this car for about six years. I'm not your typical Ferrari flipper, these are my children and I want them to go to good homes. My modified Ferraris carry an excellent reputation in the industry. Google "turbo Ferrari 308" and you'll find multiple articles on my blue 308 (that will never be for sale).
Message me if interested. I would love to see the car stay local (Dallas, Texas area) but I can also have it shipped anywhere in the US for about $1500.
Youtube video with walk around and short drive:
https://www.youtube.com/watch?v=kjYxn3VwqMo&ab_channel=ATSRacing
Dyno Sheet: