Not, MR2 specific, but MR2's aren't all we do anymore. I needed a place to summarize all the modifications done to my 1978 Ferrari 308, and share some of its story.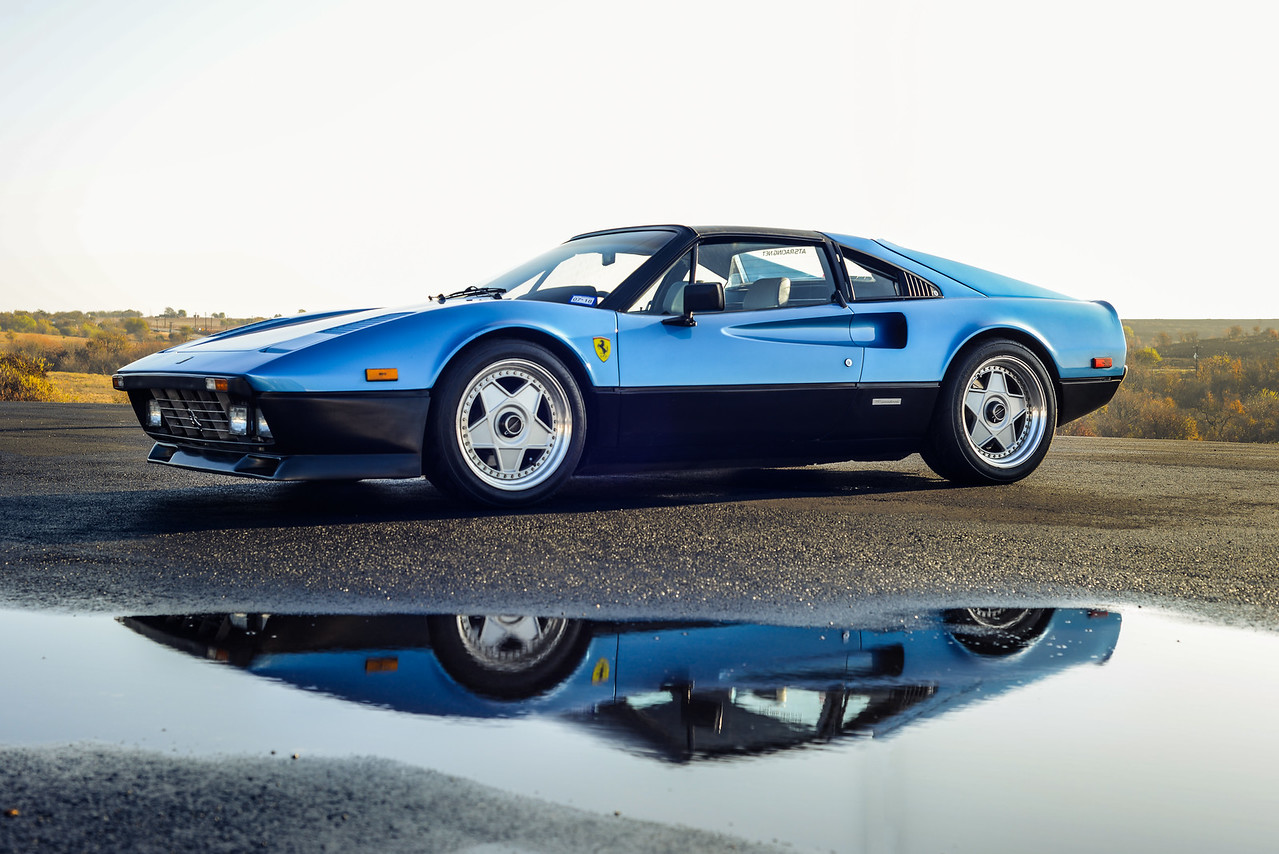 (Photo credit to Mason Bleasdell)
The current modification list (11/1/2020)
Engine/Drivetrain
rebuilt transmission (but otherwise stock)
chromoly CV joints, inner and outer
Custom clutch using a V12 Daytona pressure plate, Centrifugal style weights (taken from a Centerforce clutch for a Mustang), Kevlar disk, and a stock flywheel
308 QV block with steel sleeves bored to 81.5mm, sleeves have grooves for stainless wire rings to seal against the head gaskets. If/when I do this again I will add a larger diameter o-ring to the head to get an interlock between them
348 heads with custom cams (and a ton of duration, currently it pulls only about 6" of vacuum at idle)
Custom Wiseco 81.5mm pistons with approx. 12:1 compression ratio
Carillo Rods
Stock crankshaft
Copper head gaskets
328 oil pump
328 intake runners, ported to match the 348 heads
308 QV intake plenum
2019 Toyota Tundra 85mm electronic throttle body
Custom Aluminum radiator up front with Maradyne 9" fans (about 30lbs lighter than the stock radiator)
Turbo kit and exhaust
Precision 6466 billet wheel ball bearing T4 turbo with .82 exh housing
Kit uses stock US style 328 exhaust manifolds and Y pipe, turbo is mounted to a 2.5" J pipe that puts the turbo about where the 308/328 fuel injection meter would be.
3" downpipe out of the turbo into a Y pipe with an electric exhaust cut out. The other branch of the Y leads to a Summit 3" muffler. Currently there are two exhaust outlets (one muffled, one optionally open), but I have plans to redo the back of the exhaust into a more Ferrari like 4 tips.
Water to air intercooler mounted in the trunk. There is a radiator heat exchanger positioned between the exhaust tips. Wrapping the muffler in header wrap cut heat in this area and allows IC temps to stay reasonable.
A K&N filter behind the passenger side intake vent feeds the turbo through a 3.5" aluminum intake pipe
A rare, discontinued ZEN blow off valve is mounted on the cold side intercooler pipe
ECU, electronics, and electrics
Rebuilt stock alternator. My rebuilder was able to upgrade the internals to about 75amp (stock is 55)
Link G4+ Storm ECU with external throttle by wire module (I plan to change this to a Link G4 Extreme soon)
875cc high impedance top feed injectors using custom fuel rails and adjustable fuel pressure regulator
AEM 044 style fuel external fuel pump mounted near driver's side fuel tank
Toyota Tundra throttle body (electronic, no throttle cable)
Toyota MR2 MAP sensor (actually this is an aftermarket 4 bar unit)
GM style fast response intake air temp sensor mounted in original cold start injector spot
GM style water temp sensor mounted in the valley of the block
GM Flex Fuel sensor
Ferrari 360 throttle pedal
Toyota Tundra Denso Ignition coils (eight of them, no distributor)
Cam trigger is an aluminum wheel with a magnet in it that is attached to the end of the 348 cam, Sensor is a Norwood unit
Crank trigger uses a stock 308QV sensor on the flywheel, but the flywheel was modified to have 12 pins on the back (stock injected cars have two pins). I may change this to a 36-1 or 60-2 crank trigger later
Perfect Tuning CAN gauge replaces the factory water temp gauge and gives me instant access to (almost) all the ECU sensors and outputs, I typically have it set to view coolant temp, intake air temp, voltage, and manifold pressure
Performance:
The engine is tuned for flex fuel and can run on 93 pump fuel or E85 Ethanol. On pump gas we have to keep the boost and timing pretty low because of the high compression ratio, but we still make a respectable 420whp at 5 psi. E85 is where the real fun is. On E85 at 16.5psi we make 678whp! With a 15% drivetrain loss (measured results on other Ferrari's is actually closer to 19%) we are at 800 flywheel horsepower. The torque is slightly limited because we were getting some clutch slip on the dyno (Kevlar disks take FOREVER to break in). I don't have to tell you that 678whp. 800 horsepower in a 3000 pound car is incredible. We tuned the boost to be both rpm and throttle dependent to make the power curve as predictable as possible. You can see it's very linear and looks similar to a 355, but on steroids.
Suspension, brake and body modifications after the dyno graph and engine pics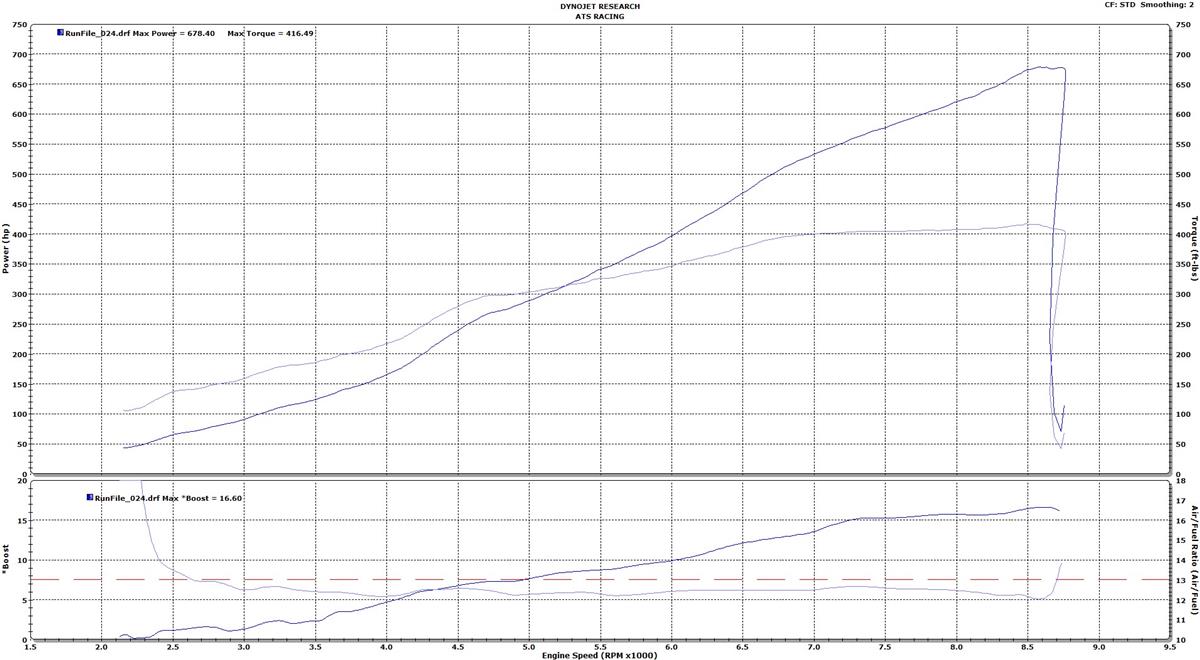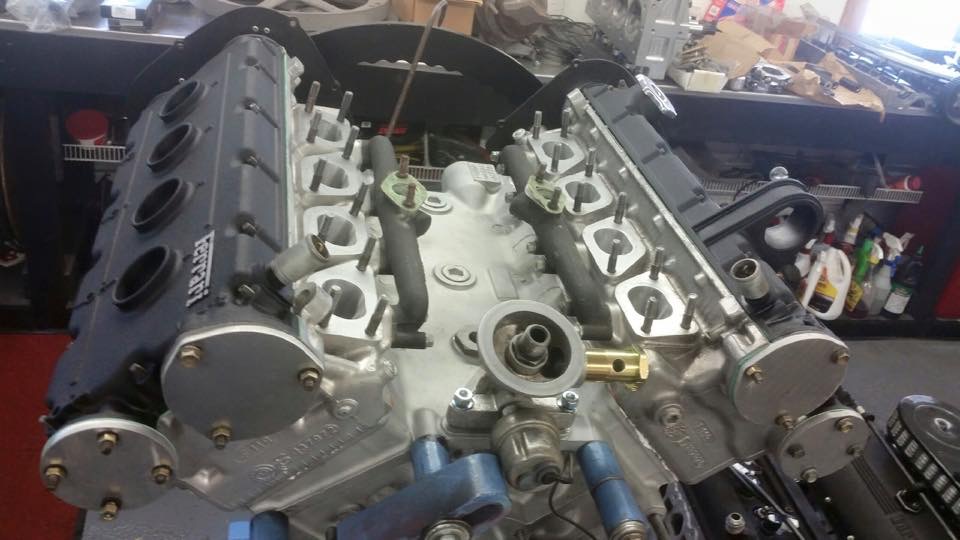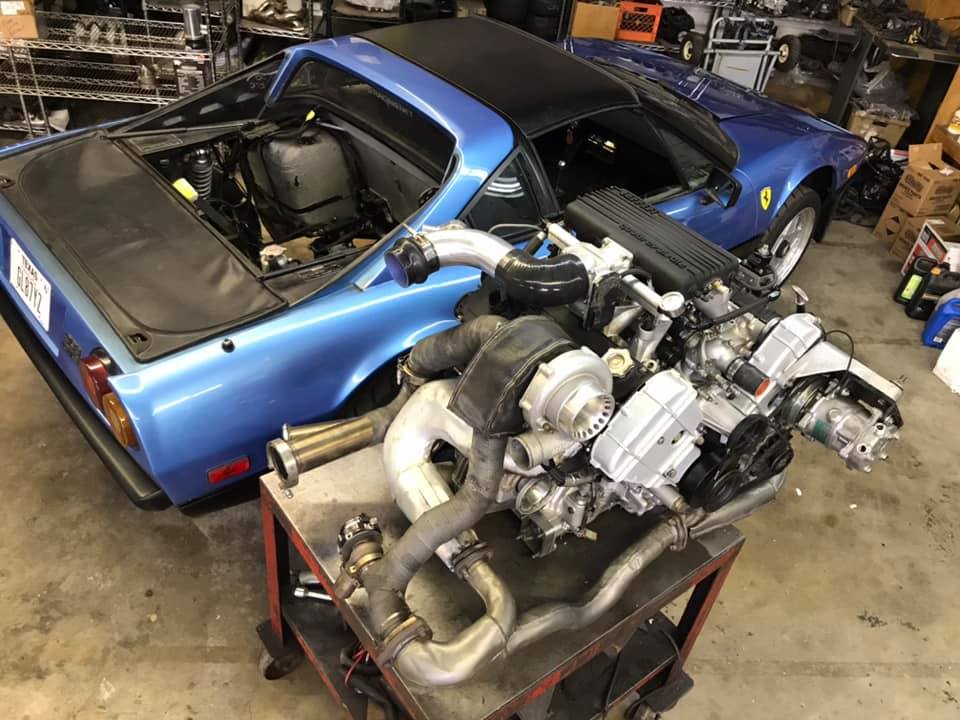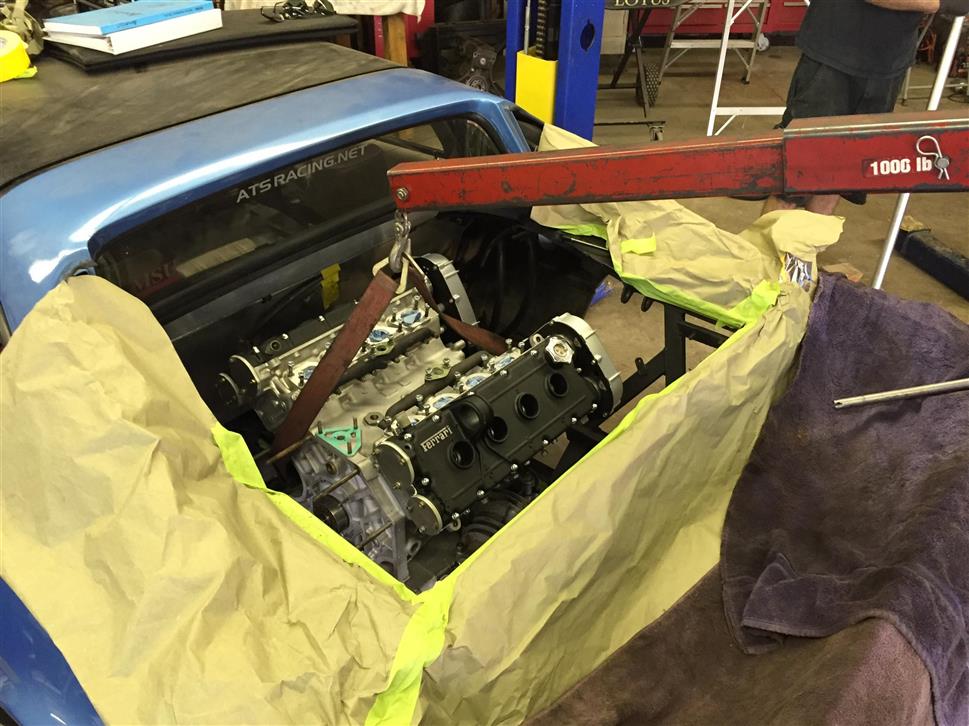 Body and wheel modifications
288 GTO style front airdam, foglights, front bumper and turn signals (I'd guess this saves 40lbs over the US bumber), and a grille that I hand made.
Euro style rear bumper (about 45 pounds saved here)
I cut the stock 1/4 window louvers out to look more like a GTB
Autostrada Modena 17x8.5 and 17x9 inch wheels with Toyo R888 225/45R17 front tires and 255/40R17 rears. These are mounted using adapter/spacers to get the correct fit. We machined custom sleeves to make them hubcentric.
Brakes
Girodisk front brake kit, I tried their complete kit with rear rotors, but the front brakes severely overpowered the rear brakes. I think I'm using an EBC red pad up front
Superformance rear brake kit with EBC yellow pads. I went with a slightly more aggressive pad to get the balance perfect. I still can't get their parking brake kit to work very well, the 1978 style cable routing just doesn't seem compatible.
Suspension
QA-1 coil overs with surprisingly soft springs. I think I went with 200/225 rates. I could probably go stiffer, but I really like the ride quality.
Poly bushings everywhere, plus all the ball joints, tie rods, and steering rack were replaced in 2016.
I have a Superformance quick ratio rack that I have not assembled or installed yet.
The aluminum calipers and two piece rotos saved about 40lbs off the car
Stereo and AC
Sanden style AC compressor, all new lines/hoses, condenser, fan, etc. Only the ducting and the evaporator remain from the original AC. My center vent is actually a 928 door vent and flows more air than the original 308 vent. Sanden compressor and bracket weigh 10 pounds less than the original York.
Alpine CD head unit with ipod control (old, like 2006 model), Clarion door speakers, and small JL 3 channel amp under the passenger seat, and a 8" JL sub in a custom box positioned where the original EGT sensor control boxes were at the front of the passenger footwell.
Other links:
Smoking Tire One Take video: (skip to :44 to avoid watch advertisement) https://www.youtube.com/watch?v=ruBJ-MnYXis
Eagles Canyon Drive By: https://www.youtube.com/watch?v=KKYSGFe5pkE
RetroMod cars feature article: http://www.retromodcars.com/features/beautiful-beast
How I got it, the short version. The car belonged to a lifelong family friend and fraternity brother. He and his family died in an incredibly tragic plane crash in 2006. Our last conversation had been that he wanted me to work on the car, make a few improvements and make it a little faster. I spoke to his family and carefully brought up the car. His father replied "I was hoping you would ask about that." He allowed me to purchase the car from Jason's estate. I bought the car sight unseen. I didn't know it was blue. It was not running at the time, we had to tow it home from Wichita Falls.
I managed to get it running, replace a leaking fuel line, and do a basic tune up. I spent a lot of time on the dyno getting the ignition timing and carb settings as perfect as I could. The result was 187whp, not too bad for a car originally rated at 205 flywheel horsepower. I drove it like this off and on for eight years. Note the sleeping toddler in the passenger seat.